Chapter News
Over the last two years, we have each been forced to pivot in so many areas of our lives, often in ways that have been challenging and not what we hoped for. In the spring of 2020, when it became clear that the upcoming months would be different from our expectations, CISV Brandywine Valley pivoted, too.
First, we began holding our monthly Junior Branch (JB) and adult board meetings online. In the months that followed, we expanded our online activities so we could maintain our connection and our engagement.
We started Conversations for Change, our ongoing series of virtual discussions about the issues surrounding racism, bias, and inequality. (The next session is on April 24!)
We continued to expand our relationship with the local community through our Mosaic program by meeting on Zoom in our own homes to bake cookies and sew masks for the residents of the Valley Youth House group homes.
We converted our annual fundraiser gala event to a virtual event in which our JB shared their talents with CISV members, friends, and family near and far.
Our JB revived the old art form of handwriting letters in a correspondence program with CISV members from other chapters across the world.
When the weather allowed, we met for outdoor activities such as pumpkin painting, a nature hike, and International Day of Peace celebrations.
Our Junior Branch's virtual game nights helped us maintain some levity.
We cooked "together" (virtually, with everyone making different dishes in their own homes), then compiled the recipes into The JB Cookbook.
Several chapter members participated in virtual learning sessions hosted by CISV USA and by CISV International.
As the world inches closer and closer to the end of the pandemic, CISV Brandywine Valley has been gradually resuming in-person events, such as our monthly chapter meetings. We are looking forward to hosting two in-person mini-camps this spring (check the calendar for registration information) and to sending a delegation to a Village in Cincinnati this summer.
At a time when it was easy to feel isolated, the energy and dedication of the members of CISV Brandywine Valley served as a powerful reminder that, even when we cannot be physically together, we can continue to work together toward our mutual goals.
~ Julie E. Manser, president, CISV Brandywine Valley
---
Junior Branch (JB) Report
Our March meeting kicked off with a de-energizer called "Thunderstorm." The board announced the theme and date for this year's chapter mini-camp: "Under the Sea." Everyone is very excited about CMC, and the board has planned many great activities for it!
Up next was the main event: elections of next year's JB board members! After voting, we played ninja and hung out while waiting for the adult board meeting to wrap up
---
Recruitment
Sending Update
With the pandemic still looming large, the future very unknown, and most BV members very reluctant to travel internationally this year, our board made the difficult decision not to send delegations to international programs in summer 2022. However, after two years of canceled programs, we are delighted to be sending a delegation to a Village hosted by CISV Cincinnati, as well as a Junior Counselor (JC) and individual delegates to Seminar and Fortnight!
Leader Needed!
We have four terrific Village delegates but are still looking for a leader for this delegation. This year, US-hosted Villages will be slighter shorter than usual (three weeks instead of four), and the program dates for the Cincinnati Village are June 24 through July 16. This is a volunteer position with a stipend. If you know anyone who might be interested in this opportunity, please let us know ASAP!
---
We Need Your Help!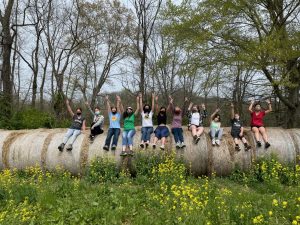 CISV is a volunteer-driven organization. Without the involvement of our chapter families and friends, CISV travel programs, chapter meetings, and other activities would not be possible. If CISV is important to your family, please consider getting involved in our chapter! We are always in need of volunteers (no contribution is too small!), so contact us to find out how you can help!