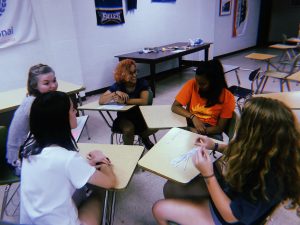 In summer 2018, I attended Fortnight in Western Pennsylvania near the Pittsburgh chapter. It was a two-week long national camp for 16-18 year olds. Many different U.S chapters were represented including: Austin/San Antonio, Boston, Chattanooga, Columbus, Detroit, Jacksonville, Miami, New York, Philadelphia, Pittsburgh, San Francisco and of course our very own Brandywine Valley.
When I first arrived I was a little nervous to meet all of these new people from many interesting and diverse places. I was very new to CISV and was worried everyone would already know everyone else and I'd be the new kid at school.
I had no reason to worry! Everyone was very welcoming and friendly, and I was not the only person new to CISV at Fortnight. Rest assured whether you're a newcomer or CISV is old hat to you, there is a place for you at Fortnight.
Meeting people from all across the country was fascinating, everyone had diverse backgrounds and unique experiences that really helped to liven up both debriefs and regular conversation. I definitely left at the end of the two weeks a little more self-aware and informed. The activities were often fun and dynamic, and I enjoyed both planning my own activities with a very supportive group and participating in other camper's activities. Of the activities my group planned, the crane activity was by far my favorite to lead.
Rest assured whether you're a newcomer or CISV is old hat to you, there is a place for you at Fortnight.
After a week or so of activities' that served to "call out" the flaws in society and our own thinking, I wanted to do something that reminded everyone of the importance of unity. For this activity people wrote a message they had always wanted to hear, then they folded it into a crane, and threw it into the middle of the room. Everyone scurried to pick up a crane and read the heartfelt (or comical) message inside.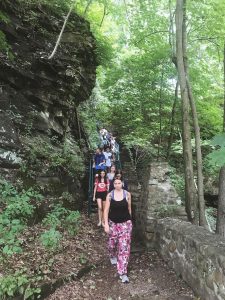 The outing we went on provided an opportunity to bond more with each other and also volunteer some of our time to learn more about a worthy cause.  Since, we created our own schedule there was nobody else to blame when we were tired to participate, slept through something, or missed a meal. Pretty much everybody did it at least once because especially toward the end people were trying to soak up every last moment of the camp experience and this resulted in pushing the limits. Caffeine consumption in the last week was certainly at an all-time high. The dance on the 2nd to last night and the bonfire with closing remarks on the final were some of the highlights of the adventure.
The connections made at Fortnight, whether they were reconnections or new connections, will certainly remain tangible. I will not soon forget what I learned, what I saw, or who I met. Overall, I think the program was a huge success and look forward to hearing about how the next group of 16-18 year olds enjoys the adventure. I'm certain their experience will be just as memorable as mine (maybe even more). I just pray that this time around everyone will sleep just a little bit more!