Editor's note: Hanya S. is an 11-year-old girl who traveled to Mexico the summer of 2018 with three other CISVers and met more than 48 people from different countries. To learn more about this year's specific invitations, click here. 
CISV stands for Children's International Summer Village. What's a better way to become a CISVer than to experience the name in person? There is none. Which is why I encourage you to go to Village when you're eleven.
Village was a terrific experience. In the beginning of the year, I had anxiety. I was apprehensive about going, as I'm sure you might be. But I talked to my parents, friends in my local CISV group, and my leader, and they encouraged me to go.  It was totally worth it!
I went to Mexico with my delegation (which usually consists of two boys and two girls) and we had a blast. We got to learn about the other countries attending, see around that city/town, and make a million friends. It was also by far the best way to exercise ;).
There are a lot of adults at the camp. Staffies are in charge of the camp. They are nice and will always give you a helping hand. Leaders are in charge of your delegation. They travel with you to and from home and are always there to help. The JCs are 16- and 17-year-old CISVers who help run the activities. They helped us and encouraged us to participate in the activities. Because they were younger than the staffies and leaders, they were able to help us relate to each other easier. If something bad happened, I could either talk to my leader, a staffie, a JC, or a friend. They are always ready to help, under any circumstances.
Breakfast and other mealtimes are a great opportunity for meeting people. The JCs and leaders start table-talks, where you share your name, country, and maybe some of your favorite interests and hobbies. Then, during the rest of the day, you do activities and debriefs, where you not only learn more about other countries, but you get to know yourself a bit better, gain confidence, and start to get your own opinion on things. Sometimes during the day you can visit the JC shop. They have candy (yum!) bug spray, gum, snacks, drinks, and more. There are tables and chairs and music playing, and it's really just a great time to relax and hang out with friends.
Every day we also had delegation time in the afternoon. This was a nice time to talk with the other Americans and talk about the day. We could talk about our day, what was bothering us, and what we really enjoyed.
Every one or two nights, a delegation would have a National Night. We would go into a separate room and learn about their country. Most of the time they would make a food known to their country. Sometimes they would teach us a native dance. It was a fun time to learn more about the different countries.
The first and middle weekends, the campers go to a home-stay. The first home-stay is with your delegation and the second home-stay they pair you with someone from another country. At the home-stay, they take care of us and show us around their hometown. They also provide good food, hot showers, and nice beds. It's great to get to know local families well and another way to make some new friends. Twice in camp, we take a field trip and see around the city that the camp was hosted in. That's a fun way to meet the locals and see the way those people live.
My personal experience at Village was an indescribable trip filled with fun and friends. I was sad, I was scared, I felt awkward, and I was hyper (sometimes). We were all there for each other. Everyone is ready to help. Nobody's judging. They would, as CISVers say, speak "words of wisdom" ("Let it Be," by the Beatles) and always have warm words of encouragement.
Village was by far one of the best experiences of my life. From the people to the places we visit, it was an amazing experience. I learned a lot at Village, I made about a million new best friends, and I had the time of my life. I hope you go to a Village, and have the time of your life, too!
Our CISV Village Experience
(by Steve and Heather; Hanya's parents)
CISV Village is a unique experience. It meets in different places around the world every year. Twelve countries each send four children to meet up for a month to learn about each other's cultures. They learn to work and live together, with the ultimate goal of showing them how citizens of the world can live together in peace. We loved the idea of our daughter joining like-minded children in a camp where she could make friends from all over the world.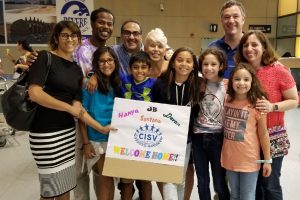 As we prepared for this journey, we were all excited. We got to know the other members of the group with which our daughter would travel to Mexico. The adult chaperone not only prepared the kids for the trip, but he became their friend and mentor. He became their "big brother," someone who would care for them and to whom they could turn for anything.
As the date drew nearer, anxiety was added to our excitement. Our daughter had never been away from home, except for an occasional sleepover with a friend. We would not see her for a whole month! We would not be able to talk to her either! What were we doing?!? 
Thankfully, we had been prepared for this. We talked to parents who had sent their children to Village in previous years. Parents and children alike had wonderful stories of their experiences. They told us that it was scary at first, but was worth it in the end.
The day the kids left was scary. How could we be letting our daughter go away? Our daughter was shaking and panicked the night prior. We were all wondering if we made the right choice. By the morning of departure, we had all calmed down. It was very hard saying good-bye at the airport and watching our daughter go through security without us.
We received a text from the adult chaperone when they arrived in Mexico. We were able to send e-mails and they were periodically printed out for her, but she was not able to contact us. Thankfully, the chapter hosting the camp posted pictures and short videos of the kids nearly every day on Instagram. The family she stayed with during the middle home stay sent us a lot of pictures and videos over the weekend. We were excited to see so many smiles! Even if our daughter wasn't in a picture or video, we knew she was having fun because ALL of the children were grinning and laughing and HAPPY!
When our daughter returned, it was such a wonderful reunion! There were a lot of hugs and tears. The group arrived late in the day. Our daughter was so excited to tell us her stories that we stayed up late into the night. For days she wouldn't talk about anything other than Village! It was wonderful hearing her experiences and all about the good times she had. We knew then and there that despite how hard it was while she was gone, we had definitely made the right decision. 
She made many new friends who she has continued to stay in touch with. We love when she asks us if it's okay to call her friends in Brazil or Iceland or Portugal or elsewhere in the world. Someone created a WhatsApp group for their Village and she makes sure to check it at least once a day to stay in touch with her friends.
She came back a different person. She is full of confidence, has more worldly views on issues, and has a much stronger sense of self-esteem. We asked if she felt homesick and got the same answer as other families – only the first day or two. After that, they were so busy and having so much fun that they didn't think about it any longer. By the end of the trip, she wished it was longer!
There is a lot of excitement and planning that builds up to the day of departure. As it gets closer, the anxiety increases. You can't help but wonder if sending your child away for a month is a good idea. However, after talking to many families who had such positive experiences and knowing that CISV has been doing this for over 50 years, we made the leap of faith. We are so glad we did! 
The friendships she built are irreplaceable. She has begun learning that we live in a large world made up of all kinds of people and no matter how different we might look or how different our beliefs might be, we are all the same inside. She returned with a better understanding of how tolerance, diversity, and cooperation can lead to peace. The changes in her—the maturity and growth of confidence and self-esteem—are amazing.  We look forward to her attending many more CISV programs in the future and our younger daughter joining when she turns 11.